you are lavender
#E6E6FA

Your dominant hue is blue, making you a good friend who people love and trust. You're good in social situations and want to fit in. Just be careful not to compromise who you are to make them happy.

Your saturation level is very low - you have better things to do than jump headfirst into every little project. You make sure your actions are going to really accomplish something before you start because you hate wasting energy making everyone else think you're working.

Your outlook on life is bright. You see good things in situations where others may not be able to, and it frustrates you to see them get down on everything.

the spacefem.com html color quiz
Your rainbow is intensely shaded
violet, yellow, and red.
What is says about you: You are a joyful person. You appreciate energetic people. You get bored easily and want friends who will keep up with you. You are patient and will keep trying to understand something until you've mastered it.
Find the colors of your rainbow at spacefem.com.

Some people are scared of mice while others find them cute and cuddly. As a mouse, you forage for food and manage to sneek into everything, but prefer to stay out of sight. The phrase "quiet as a mouse" isn't for nothing, however surprise one and expect a squeek! Your small size and quiet nature are partly what makes you a mouse.
You were almost a:
Parakeet
or a
Frog
You are least like a:
Bear Cub
or a
Turtle
Take the Cute Animal Quiz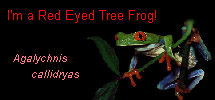 Red-eyed tree frogs come from the warm and humid rain forests of Costa Rica in Central America. Some believe that their red eyes are a form of protection called "startle coloration". These frogs are very mellow during the day, and tend to be active only at night, so if the frog is awakened in the daytime, as might happen if a predator chanced upon it despite its excellent day time camouflage, the eyes pop abruptly open, hopefully startling the predator. This species tends to do better in a community of other red eyed tree frogs.